"Spolier alert!"

WARNING! This page may contain SPOILERS! If you don't want to read spoilers then please leave the page or Look at the comments if they don't have spoliers.

Thanks!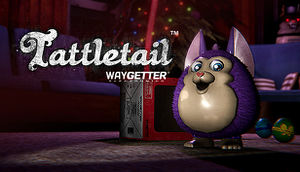 The Offical Game Called Tattletail™ a Indie Horror Game made By unity.The voice actor of mama's voice was pitched down and the tattletail voice actor is pitched Up.The New Update is The Kaleidoscope update that is the Opposite of the game Things that Change:
Tattletail's Voice
mama Unbanned
New Voice Lines
Yellow and blue hasn't change
Tattletail Has Green Eyes and mama is friendy. Thats Pretty Much All Finish The game And see the changes yourself Ok.Theres A The Job About Waydrive The first one before the last one The waydrive Gives them their Personalities! How Does it Work? its a Family secret.So Contract Us if you want to
Email:Waygetter@Gmail.com
Ad blocker interference detected!
Wikia is a free-to-use site that makes money from advertising. We have a modified experience for viewers using ad blockers

Wikia is not accessible if you've made further modifications. Remove the custom ad blocker rule(s) and the page will load as expected.